Golf Caddy Guide - S.F. to Northern CA Coast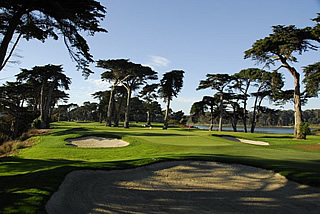 The Harding Park G.C. was opened on July 18, 1925, named after U.S. President Warren G. Harding, an avid golfer, who died while visiting San Francisco two years earlier. This 163-acre (0.66 km2) course was designed by Willie Watson and Sam Whiting, who own the nearby golf course Olympic Club, for a price of $300. The golf course quickly attracted national attention when the park hosted a number of golfing tournaments. The prestigious U.S. Amateur Public Links Championship was held at Harding in 1937 and again in 1956. In the 1960s, Harding became a regular stop for tours and produced many big-time golfers like native Ken Venturi, Gary Player, and Billy Casper. But by the end of the decade ... we saw the downturn of the park ... the condition only worsened during 1970s and 1980s ... The low point came in 1998 when Harding was used as a parking lot during the U.S. Open in the nearby Olympic Club. Sandy Tatum, a long time San Francisco lawyer and a golfer, led the crusade to restore glory to Harding .... Tatum convinced Hall that the renovation can possibly bring in big money golf tournaments like PGA Tour back to town.... Renovation finally began in the spring of 2002. This 15 month long project would expand the course from 6,743 to 7,200 yards (6,600 m) and upgrade driving range and clubhouse to PGA standards. On August 22, 2003, the Harding Park was officially reopened. On October 6, 2005, Harding hosted the WGC-American Express Championship, its first PGA Tour event since 1969, drawing top golfers like Tiger Woods and Phil Mickelson from around the world. Over the next ten years, several more PGA tournaments are scheduled to be hosted at Harding according to an agreement between the City and the PGA. Harding Park will host the Presidents Cup in October 2009. (Biblio: Article Source Click Here from Wikipedia.com) (Photo from the Album: Harding Park golf course photos ):
Web Links & Golf & Travel Info for courses from S.F. to the N. CA Coast:
Adobe Creek Golf Club:  1901 Frates Rd.;  Petaluma, CA;  (707) 765-3000
Aetna Springs Golf Course:  1600 Aetna Springs Rd.;  Pope Valley, CA;  (707) 965-2115
Bennett Valley Golf Course:  3330 Yulupa Ave.;  Santa Rosa, CA;  (707) 528-3673
Bethel Island Golf Course:  3303 Gateway Rd.;  Bethel Island, CA;  (925) 684-2654
Cinnebar Hills Golf Course:  23600 McKean Rd.; San Jose, CA;  (408) 323-5200
Bodega Harbour (The links at):  21301 Heron Dr.;  Bodega Bay, CA;  (707) 875-3538
Boundary Oak Golf Course:  3800 Valley Vista Rd.;  Walnut Creek, CA;  (925) 934-6211
Brentwood Golf Club:  100 Summerset Dr.;  Brentwood, CA;  (925) 516-3400
Brooktrails Golf Course:  24860 Birch St.;  Willits, CA;  (707) 459-6761
Buckingham Golf & Country Club:  2855 Eastlake Dr.; Kelseyville, CA;  (707) 279-4863
Chardonnay Golf Club:  2555 Jameson Canyon Rd. (State Hwy. 12);  Napa, CA;  (707) 257-1900
Contra Costa Country Club:  801 Golf Club Rd.;  Pleasant Hill, CA;  (925) 685-8288
Cypress Lakes Golf Course:  5601 Meridian Rd.;  Vacaville, CA;  (707) 424-5797
Deer Ridge Country Club:  801 Foothill Dr.;  Brentwood, CA;  (925) 516-6600
Diablo Creek Golf Course:  4050 Port Chicago Hwy.;  Concord, CA;  (925) 686-6262
Discovery Bay Country Club:  1475 Clubhouse Dr.;  Discovery Bay, CA;  (925) 634-0704
Eagle Vines Golf Club:  580 S. Kelly Rd.;  Napa, CA;  (707) 257-4470
Fountaingrove Golf & Athletic Club:  1525 Fountaingrove Pkwy.;  Santa Rosa, CA;  (707) 521-3214
Foxtail Golf club:  100 Golf Course Dr.;  Rohnert Park, CA;  (707) 584-7766
Franklin Canyon Golf Course:  Hwy. 4;  Hercules, CA;  (510) 799-6191
Green Valley Country Club:  35 Country Club Dr.;  Fairfield, CA;  (707) 864-0473
Hidden Valley Lake Country Club:  19210 Hartman Rd.; Hidden Valley Lake, CA;  (707) 987-3035
Hiddenbrooke Golf Club:  1095 Hiddenbrooke Pkwy.;  Vallejo, CA;  (707) 558-1140
Indian Valley Golf Course:  3035 Novato Blvd.;  Novato, CA;  (415) 897-1118
Little River Inn Golf Course:  7901 North Hwy. 1;  Little River, CA;  (707) 937-5667
Lone Tree Golf Course:   4800 Golf Course Rd.;  Antioch, CA;  (925) 706-4220
Mare Island Golf Course:  1800 Club Dr.;   Mare Island, CA;  (707) 562-4653
Marin Country Club:  500 Country Club Dr.;  Novato, CA;  (415) 382-6707
Mayacama Golf Club:  525 Mayacama Club Dr.; Santa Rosa, CA;  (707) 543-7171
Meadowood Napa Valley Golf Course:  900 Meadowood Ln.;  St Helena, CA;  (707) 963-3646
Mira Vista Golf & Country Club:  7901 Cutting Blvd.;  El Cerrito, CA;  (510) 237-7045
Napa Golf Course at Kennedy Park:  2295 Streblow Dr.;  Napa, CA;  (707) 255-4333
Napa Valley Country Club:  3385 Hagen Rd.;  Napa, CA;  (707) 252-1114
Northwood Golf Club:  19400 Hwy. 116;  Monte Rio, CA;  (707) 865-1116
Oakhurst Country Club:  1001 Peacock Creek Dr.;  Clayton, CA;  (925) 672-9737
Oakmont Golf Course:  7025 Oakmont Dr.;  Santa Rosa, CA;  (707) 539-0415 (West)
Orinda Country Club:  315 Camino Sobrante;  Orinda, CA;  (925) 254-0811
Paradise Valley Golf Course:  3950 Paradise Valley Dr.;  Fairfield, CA; (707) 426-1600
Peacock Gap Golf & Country Club:  333iscayne Dr.;  San Rafael, CA;  (415) 453-4940
Pittsburgs Delta View:  2242 Golf Club Rd.;  Pittsburg, CA;  (925) 439-4040
Rancho Solano Golf Course:  3250 Rancho Solano Pkwy.;  Fairfield, CA;  (707) 429-4653
Roddy Ranch Golf Club:  1 Tour Way;  Antioch, CA;  (925) 978-4653
Rooster Run Golf Course:  2301 East Washington St.;  Petaluma, CA;  (707) 778-1211
San Geronimo Golf Course:  5800 Sir Francis Drake Blvd.;  San Geronimo, CA;  (415) 488-4030
Santa Clara Golf & Tennis Club:  5155 Stars and Stripes Dr.;  Santa Clara, CA;  (408) 980-9515
Santa Rosa Golf & Country Club:  333 Country Club Dr.;  Santa Rosa, CA;  (707) 546-6617
Sea Ranch Golf Links (The):  42000 Hwy. 1;  The Sea Ranch, CA;  (707) 785-2468
Shadow Lakes Golf Club:  401 W. Country Club Dr.;  Brentwood, CA;  (800) 497-2098
Silverado Resort:  1600 Atlas Peak Rd.;  Napa, CA;  (707) 257-5460
Sonoma Golf Club:  17700 Arnold Dr.;  Sonoma, CA ; (707) 996-0300
StoneTree Golf Club:  9 Stonetree Ln.;  Novato, CA;  (415) 209-6090
Ukiah Golf Course:  599 Park Blvd.;  Ukiah, CA;  (707) 467-2832
Vintners Golf Club:  7901 Solano Ave.;  Yountville, CA;  (707) 944-1992
Windsor Golf Course:  1340 19th Hole Dr.;  Windsor, CA;  (707) 838-7888

Northwood Golf Club
The Northwood golf club "Redwood Beauty, Mackenzie Challenge"

Designed in 1928 by architect Alister MacKenzie, famous for Augusta National, Cypress Point, Sharp Park (SF), and Pasatiempo - in collaboration with Robert Hunter, this enticing par 36 nine-hole course was originally created for the exclusive Bohemian Club. Today Northwood nostalgically remains one of the most scenic and challenging courses open to the public. Monte Rio is a census-designated place (CDP) in Sonoma County, California along the Russian River near the Pacific Ocean. The town of Guerneville lies east of Monte Rio, and Jenner is slightly north-west. The population was 1,104 at the 2000 census. Bohemian Grove is located in Monte Rio California on the Russian River not far from Guerneville and just north of Santa Rosa - approximately 100 miles north of San Francisco. This golf course is located entirely in a grove of giant coastal redwoods and has two sets of tees so you can play 18 holes if you like. It is one of the most spectacular and scenic inexpensive golf courses that you could ever imagine and why we have it profiled here in our golf and travel section. Take a trip into wine country and divert to play a round here! Please Enjoy!!!